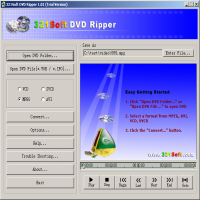 Conversion and ripping of DVDs was never as easy as what 321Soft DVD Ripper makes it out to be. A simple yet powerful tool for converting your favorite DVD movies to video file formats, which you can view on your computer or other media devices, 321Soft DVD Ripper is extremely easy to obtain and use at a price of only $29.95.
Video file formats such as MPEG, AVI, SVCD, and VCD can be fully ripped from your DVDs directly with just a few clicks of your mouse. The high-speed algorithm does the work for you with excellent video and audio quality while you just sit back and relax. Support for many additional features such as choosing language audio, subtitles, choices between NTSC and PAL can also be made. A Free trial offer is also available to test it out.
Video editing of the ripped files can also be done with great ease with 321Soft DVD Ripper so that you can get your customized video output. Parameters such as zoom, resizing, cropping can be done in a jiffy. Preset formats of four different modes allow you to get standardized video size. Output to various AVI codecs are also supported allowing you to customize the size of the output file.
At $29.95, this software packs simplicity and power all in one. With limited features but good performance, I will rate this software at 8 out on the scale of  1 to 10.