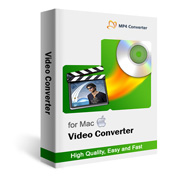 One of the most powerful video converter utilities available for the Mac for both audio, as well as video conversion is the 4 Media Video Converter. It can a wide range of formats in audio (such as OGG, AAC, MP3, WMA, AC3 and WAV files) and also video formats (such as 3GP, MP4, MP2, MOV, ASF, and the good old AVI and MPEG 1/2/3). It works like a charm to convert videos for a variety of media players like iPods, PSP, Mobile Phones, PS3, Creative Zen, Blackberry mobiles and many more.
The additional functionalities which come along with the package which makes it stand out as a powerful converter are many. With a higher conversion rate than most other converters, thanks to its support for the Intel Core 2 Duo CPU, makes it lightening fast for the conversions. Settings for both basic and advance functions can easily be changed for the video and audio outputs by simply a few clicks. It also allows you to trim or crop certain regions of the media, so you can choose the length and period you want.
The advanced settings include the ability to modify different parameters of video and audio files such as bit rate, frame rate, video size and video resolution, making it very flexible with the output file size. You can also take screenshots of the videos by utilizing its Snapshot feature. If the process of conversion is lengthy you can also pause and continue the process later or even stop the conversion in the middle without any slowing down. Previewing the file to be converted is also simple. It also allows you to change ID3 tags of various files.
The user-friendly interface of the 4 Media Video Converter makes it easy software for anyone's use. With low system requirements, it can run on almost any Mac. The only drawback which I could think of is its lack of support for flash video files. But otherwise, it offers all major file types which anyone would need for conversion. And for a price of just $49, anyone can purchase it easily. It would definitely deserve 9 point out of 10 on a rating.