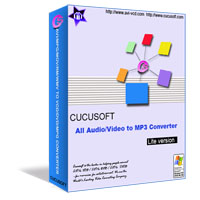 Cucusoft is a newbie company that has come into the spotlight in recent times due to its huge collection of video converter programs. Here, we are going to review its software application that is named as Cucusoft All Audio/Video to MP3/WAV Converter. Quite a mouthful, isn't it? Let us see how the program itself is like.
Firstly, when a new company enters into the market with any software applications, there are always apprehensions. With Cucusoft All Audio/Video to MP3/WAV Converter, these apprehensions can be put to rest, because the program actually does what it claims to do. It is not exactly a powerhouse converter, but priced at $24.90, it is quite decent.
So, what does the program purport to do? The Cucusoft Converter (I am tired of keying in the whole name now!) can convert various video and audio formats including avi, asf, wema, mpeg (even mpeg 4) and disk formats into wave formats, i.e. mpeg 3 and wav. This is what the name suggests. Nevertheless, the Cucusoft Converter can suitably perform the task too. Suppose you want to segregate a musical track from a movie DVD that you have. On the other hand, you want to make a collection of the dialogs from a movie you shot. For something like that, you can use this Cucusoft Converter.
The program interface cannot be termed as extremely simplistic, but it is usable all the same. It allows easy splitting of videos and has support for batch function. Nevertheless, there are some shortcomings that need to be looked into.
First, the program is not quite compatible with Windows Vista, and that certainly narrows down its field of usage. There are problems with quality of the files converted; the main criticism is in converting files from the Zune Player. In addition, there is some grumbling among the customers about Cucusoft's after sales services. As such, Cucusoft Converter wins 7 out of 10 stars on my ratings meter.