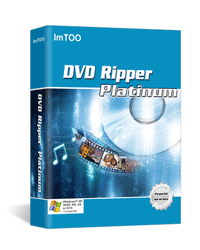 ImTOO has been for long a leader in the video and audio conversion industry. Their new product the ImTOO DVD Ripper Platinum v5.0 is having the latest technology to rip DVDs and convert video files from one format to another. It is one of the most powerful DVD rippers available today with an extensive list of features and supported file types.
The factor that makes ImTOO DVD Ripper stand out apart from the other software available is that it has all the advanced features packed in single software, which has an easy to use interface. Features such as ripping DVDs directly to compressed formats like AVI, DivX and XviD make it easy for users to copy DVD quality video straight to their computers while occupying the least space. It is also possible to rip DVDs to VCD, MPEG, and WMV formats. The audio from DVDs can also be grabbed by the software directly into WMA, MP3 and a host of other file formats.
The ImTOO DVD Ripper Platinum v5.0 also has several key features. It is possible to clip or select particular segments and merge them into a single segment if necessary. You can also perform multiple conversions at once, allowing you to convert one file into a variety of different file types, which can be used by different multimedia devices like the iPod and the PSP. The DVDs can also be ripped as per the chapter. The advanced programming in the software utilizes a complex algorithm to determine the CPU type of your computer and accordingly change settings to optimize the ripping speed for both quality and time. By utilizing ImTOO DVD Ripper Platinum v5.0 you will get the best performance for DVD ripping and conversion. You can also do batch conversions for many files in one go.
ImTOO DVD Ripper is for advanced users, but it can also be used easily by beginners. The price however at $45 is high, but the software is definitely worth the money. Personally, I would recommend this software to anyone who can buy it. I would like to rate it at 9 on the scale of 1 to 10.