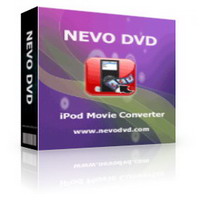 If you have ever wanted a combined version of iPod Video Converter 2008 and the DVD to iPod converter 2008 programs, then the Nevo iPod Suite 2008 is the software for you. With this powerful combo pack, you can just about convert any file or DVD to your iPod File Formats so that you can enjoy your videos on the move all for the inexpensive rate of $39.95.
So, what all features does this baby pack? Nevo iPod Suite 2008 comes fully loaded with the software needed to convert DVDs to iPod (MP4) file format. With the combo software provided, you can also convert a variety of other file types such as FLV, XviD, DivX, WMV, AVI and MPEG to the iPod video files. A demo version is freely available if you want to test out the software.
You can also control a variety of parameters for your output video such as video cropping, cutting segments, video effects like saturation and volume, sound normalization and screenshot capturing. These parameters although rarely used by me, just add value for money for the software.
With Nevo iPod Suite, you can even rip DVDs by chapter and customize the output files so that your DVD movies can fit on CDs or smaller. The company offers a free trial, which is good for people to try the software before they decide to buy it. But at a price of $39.95, I would definitely purchase it for what it is worth. This software would definitely get an 8 out 10 on my rating scale.
Click Here for Nevo Purchase Information