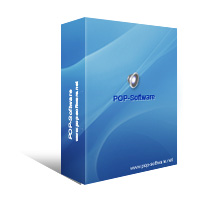 Sometimes, we do not have enough time to see a movie either in cinema hall or in our home theater system. So, think if there is good software that can rip DVD movies from our collection and make these files compatible for other portable viewing devices like personal DVD player, cellular phone and laptop. In that case, we can watch these great pieces of art while on the go. It is also convenient for storage because the converted files become smaller in volume.
Things were never so easy before POP Software.net marketed the Pop DVD Ripper. This is a great software for ripping your entire collection of DVDs. Pop DVD Ripper is a powerful software yet its handling is very easy. It is a combined package of DVD ripper and splitter. Pop DVD Ripper can convert the DVD video files (.vob files) into smaller video format like MP4, AVI, MPEG and WMV however there is no restrain in the quality of the output file. It also splits the large video files into several smaller parts according to our choice. We have to set the start and the end point of the larger file and the software does the rest.
When you are equipped with such dynamic software like Pop DVD Ripper, you can backup your entire collection of DVD titles into your hard disk. It does the same with great speed and highest quality. It supports the IFO files also. With its easy to use interface, any novice can rip the DVD files.
In my opinion, priced at US$ 34.95, Pop DVD Ripper is a great software with a rating 8.5 out of 10.