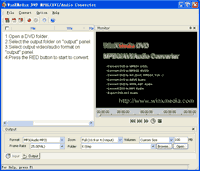 If you are used to the interface of Nero, Winxmedia DVD MPEG/AVI/Audio Converter will be a charm to get used to. This software is from the Winxmedia Company, which specializes in software, which allows you to convert audio and video files. Although the interface looks like Nero, the functionality is much different.
This converter supports a majority of the file formats that are out for both video and audio. Formats like MPEG1/2/3, AVI, DivX, XviD, MP4 or MPEG-4, YUV and even WMV are supported. Audio formats like WAV, MP3, ASF, AC3, and WMA are supported as well. The software also allows direct ripping of DVDs into the above compressed formats, allowing you to make easy backups of your favorite movies. You can also download the free trial version if you prefer.
Winxmedia DVD MPEG/AVI/Audio Converter has several preset quality modes, which can be selected to make the conversion process simple. The software is also capable of splitting large files into smaller ones, so that distribution can be easy. Selection of parts of video or audio is also simple, allowing you to selectively take out scenes from your favorite videos and clip them.
Advanced configurations such as deinterlace filter and luminance filter are also present. Using Winxmedia DVD MPEG/AVI/Audio Converter, it is also possible to change the audio track of a video file, and also change the subtitles. Modification of the video resolution is also simple.
This software has a host of supported file formats and an even more wide range of parameters, which you can fiddle around with to customize your video. At a price of 34$, it may seem a little overpriced, but this software is definitely worth the money. The quality is good, and even though the interface may look monotonous like Nero, it is simple to use and easy. The only drawback is lack of certain file types like flash videos. For these reasons, it would get only a 8/10.
Click Here to Buy this Program Today
Download a Demo Version First.