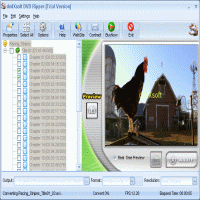 dvdXsoft DVD ripper is simple and easy to use software, which allows you to convert your DVDs into popular compressed formats, which are supported by your PC and other media devices.
Priced at $35, it is rather an expensive solution however, as compared to other software, which is available in the market to do similar functions. This means that although, dvdXsoft DVD Ripper does have good functionality, you must question whether it is worth the price. A free trial version is available to anyone who wants to test it out before buying.
To an extent, with the host of features that this software offers, it does look attractive to buy. With most major file types supported such as DivX, XviD, AVI, WMV, MPEG 1/2/3; this software can do a lot of things. The advanced features of the software also allow you to modify videos as per preference. Parameters such as 2-pass encoding gives better quality of ripping.
dvdXsoft DVD ripper also allows you to crop DVDs to remove the black bar in many of the DVDs. The conversion speeds are also comparable with other peer software. What makes this software the most interesting is that it can allow the output video file to be split into a specific size, allowing you to make parts of the DVD based on file size. This feature is not present in most other software of this type.
Although the software does allow many more features such as the ability to rip selected chapters, or even deinterlace videos; one must ask whether the functionality is worth it. Priced at $35 you would expect more features and a better interface from the software. Overall, however, dvdXsoft DVD ripper is a good buy provided you only need quality video output or video output of selective file sizes. It would only get 7 out of 10 from me, all because of its price being bit high for the features it is offering.
Click Here for Purchase Information